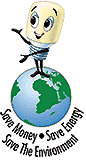 About ENERGYguide.com
The Company Behind ENERGYguide.com
ENERGYguide.com is your unbiased guide to the myriad of energy options that are available to you. With ENERGYguide.com, you will learn how to lower your energy bills by replacing equipment in your home or business, changing the way you use energy, or selecting a different electric or gas supplier if you live in a deregulated state. You will also learn how your choices impact the environment.
ENERGYguide.com is operated by Aclara Technologies LLC. which was founded in 1997 by individuals with extensive experience in energy efficiency, energy information systems, consumer marketing, multimedia educational software and Internet commerce.
For company information, jobs, and press releases, visit the Aclara Technologies LLC corporate website.
Trust
ENERGYguide.com has earned both Better Business Bureau On-Line and Trust-e certification, attesting to our commitment to your privacy. Please see our Privacy Statement for more information.
ENERGYguide.com makes money when you order a product through the site or sign up with a supplier. We also accept appropriate advertising and sponsorships on the site. However, ENERGYguide.com has no biases towards any particular supplier, manufacturer or distributor. Our goal is to provide you with unbiased information, and let you make your own decisions.
ENERGYguide.com is also an affiliate of the ENERGY STAR program of the Environmental Protection Agency. ENERGY STAR certification is awarded to products that meet a threshold of energy efficiency. Many of the products you can order through ENERGYguide.com bear the ENERGY STAR label.
Contacting ENERGYguide.com
16 Laurel Ave. Suite 100
Wellesley Hills, MA 02481
781.694.3300 voice
781.694.3200 fax

info@energyguide.com